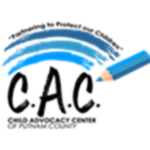 About Us
The Child Advocacy Center (CAC) of Putnam County opened in October 1999 to provide a coordinated response to child abuse allegations. The CAC is a government based program under the Putnam County Department of Social Services.
The CAC provides a child-friendly setting, putting the child and family at ease while coordinating the essential services of forensic interviews, medical evaluations, mental health assessment and victim support and advocacy. The CAC is deeply committed to serving child victims with sensitivity, understanding, competence and compassion. All cases of child sexual abuse, serious physical abuse and domestic violence involving or witnessed by children are investigated by the CAC's specially trained multidisciplinary team. Although team members come from various disciplines, the team has one goal: to reduce the trauma to child victims and their families by providing an immediate coordinated response to abuse allegations.
Awareness and prevention education may be the most effective means of protecting children and preventing child abuse. The CAC's programming focuses on innovative initiatives and partnerships with local agencies to ensure the physical, mental, and emotional health and well-being of the children of Putnam County.
Click here for Brochure.